However, there is another point and that is if you are using one camera to take two images at two places, you can't take them at the same time (without an attachment of some sort). So, anything that moves will cause a displacement within the image pair that will put it in the wrong place - a few people moving is manageable but if you are taking pictures of a beach with waves, you need to be careful (it's not impossible, just stretching it a bit - large waves will be virtually impossible but a small wave breaking should be correctable using the method below). You will need to correct these differences if they are too much and the way to do that is by using the clone tool.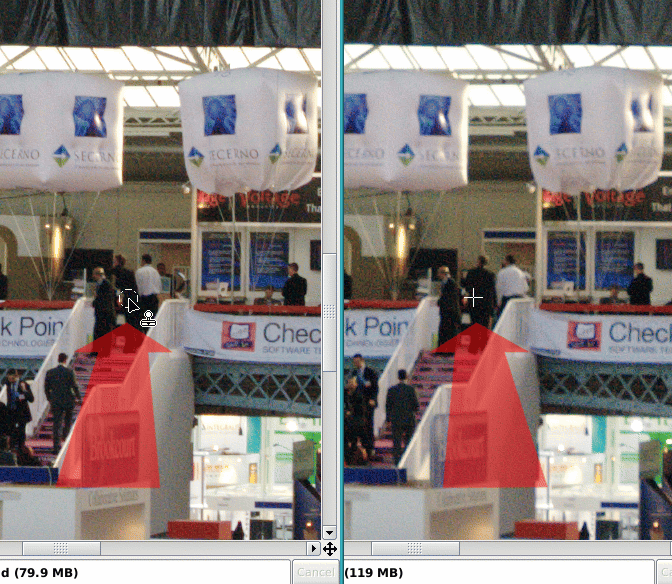 Most of us have used the clone tool to copy from one part of an image to another but this tool is far more powerful than that. Even as far back as Micrografx Picture Publisher 7 (1997) and probably before that, you could clone from one image to another without having to make it one image.
On modern Image processors - PaintShop Pro, Photoshop CS3 and The GIMP - nothing has changed that much. The only real difference between Photoshop and The GIMP being that on Photoshop, the layer you are copying from needs to be made visible (layers dialogue box) in order to use it as a source.
So, in The GIMP, assuming that you have your stereo pair loaded up as two separate images. You can, if you want, create several transparent layers over the top of the base image so that you can clone onto them instead. Make the layer in the destination image that you want to clone to, the current layer. Make the image you want to clone from in your source image its current layer. Finally, make them the same magnification, align the two windows side by side and make sure you can see the same parts of each.
Next, click on the part of the source image you want to copy over whilst pressing [Ctrl] and then [Alt][Tab] to the other (destination) image of the pair.
Align the mouse so that the detail you clicked on in the source image is in the same relative place in the image as its depth requires - a static part of the top of the stairs was used in the InfoSec 2008 image - and then start painting.
Remember that for different depths within the image pair, you need to use a different lateral displacement so, for the man that is half way up the steps on the first landing, you need to use a different offset. This is where using different layers comes into its own. You can clone to a layer that is below the top (nearest) layer without overwriting it so that your image remains clean looking.
Another advantage of cloning to a transparent layer (as opposed to directly into the base image) is that you can play around with pixel-sized displacements so if you make a tiny error in selecting which pixel to clone to, you can correct it without messing up your image.
If you have a good picture, it is worth the effort.