Tarpits and the Nachi Lesson
It appears that it is most probably that exploits of vulnerabilities occur because of patches that are issued rather than patches being issued because of exploits. The theory goes that, rather than searching through millions of lines of source code or looking at the way that hundreds of megabytes of compiled code works, people look at and reverse engineer the patches - there is a saying that if you lose your keys in the dark, start off by looking under the lampposts.
W32/Nachi-A spread by making used of the RPC DCOM vulnerability in the same way that Blaster does. The first thing that happens when Blaster or Nachi investigate your machine is that they send a ping. Then, with the result of the ping, they go about the next part of the exploit - ie infect and spread.
Whilst Blaster is 100% nasty, Nachi tries to download and install the Microsoft patches to plug the vulnerability and disinfect the machine before it goes looking for other machines to infect. Whether you decide that this is still 100% nasty is up to you but before you go thinking that this is a 'good virus', remember that: to install the patches, it needs to shut down the machine and you could be half way through doing something important and not is a position to save; and, you didn't explicitly invite this critter onto your hardware (some might argue that by failing to patch the hole yourself, this was an implicit invitation but that would be for a court to decide). Also, just so that this doesn't go on forever, Nachi was programmed to kill itself off when 2004 came around.
So, we have a piece of software (the worm/virus) that is going about, patching people's machines for them and then looking for more work to do. I seem to remember that some of the big computer companies were talking about this type of program a few years ago and talking about it as though it was the way forward as the user does not have to do anything.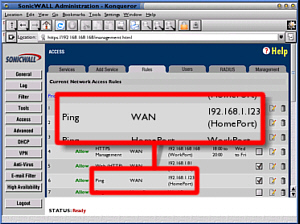 Anyway, this meant that during the last half of 2003, ISP's subnets were cluttered up with pings (they were firewalled at the ISP gateway) and if you monitored them, you could see that only a few came from outside the ISP's subnet.
To monitor these, I set my firewall up so that it directed the pings to a non-existent IP address on the local network.

I also had a Linux box running a program called 'Labrea'. Labrea (named after the tarpits in the USA) acknowledges a ping that is sent to a non-existent IP address but does so in such a way that any further communications to that address from the sending host will be done at a funereal pace.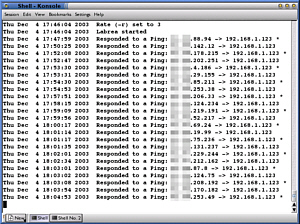 Or at least that is what the infected machine thinks. In reality, Labrea never acknowledges anything other than the original ping (tying that infective thread up with trying to take the next step of its infection process but only being able to do it slowly) and if you look over the log, you can see that machines eventually give up waiting and ping again, some time later. It is a little like taking some unsolicited visitors that knock on your door and putting them in a room. You sit them down and tell them that you are just nipping out to get them a drink and you never go back. Ever. Sooner or later, depending upon how polite they are, they will leave of their own accord but in the mean time, they will not have been out knocking on other people's doors and annoying them.
On the command line, it looks like this
# labrea -dozvv
so that it displays the verbose information on the screen as in the screenshot on the right.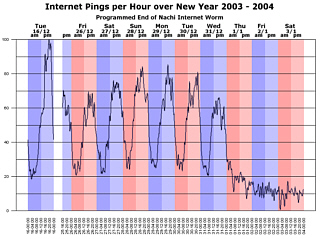 On the right is the graphical output of the 250 hours spent observing this with a sample day's worth thrown in to put it into perspective - click on the graph to bring up the large version in a new browser window. You will remember that this figure was peaking at around 300 a few months earlier.
The technical support lines were busy helping people to disinfect their machines and by Christmas 2003, had got the number of pings down - Christmas presents put more vulnerable machines out into the open and you can see the evening levels increase until they get under control again.
With Code Red, the worm was supposed to produce a denial of service attack on the Whitehouse website (although it went for the IP address rather than the URL and then, it checked that port 80 was open first, both making it easier to thwart it) so it needed to be heavily co-ordinated and at 00:00 UTC, the mode changed very visibly. Here (with Nachi), it relied on the clocks of machines that were maintained by members of the general public which is why the end is not so well defined although it is still clear to see.
The level of activity on the local ISP network tailed off, leaving periods of several hours at a time where there were no pings at all. Inspection of the Labrea logs showed that many of the machines simply stopped churning out pings, leaving some that just carried on regardless - the latter most likely to be an infection of Blaster that Nachi had not got around to clearing up. Looking at the October ping rates, it looks as though a qualified guess at the effectiveness would be around 95%.
Whilst we, as users, have no power over what is out there trying to infect our machines, it does give an idea of how effective one of these automatic-disinfect strategies could be.
So, are we prepared for the next one?
Code Red and Blaster send out a tentative enquiry before they went to their next step so their rate of spread was dependent upon the latency of the network. Sapphire/Slammer however just sent out the attack so it was bandwidth limited and was therefore very quick with probe rates as large as 26,000 probes per second.
However, it was, as many viruses are, restricted in its impact by faults in the programming (if it was developed by a large software company, they would have called them features). Sapphire suffered from an incompetently constructed pseudo-random number generator (used to find new IP addresses to attack) which missed out large chunks of address space.
Viruses and worms like these (and even email trojans) rely upon there being a significant proportion of the available population that they are able to infect. Many programs install things on machines such that the people running those machines are not aware that they are running. Using a database in a program that you write, then distributing that will not make the users of your program aware that there is something out there that can now ruin their machines unless you make them aware of it in the first place. Household machines are rarely updated. People open email attachments. No we are not prepared unless people start acting responsibly.