Which Server Operating System?
Servers for small- to medium-sized enterprises (SMEs) tend to be based upon PC architecture and therefore will run many different operating systems. Usually, this means that you end up running Windows on the server as this is what servers tend to have on them when you buy them but you are not necessarily stuck with Windows as this is not the best choice. Here's why...
Unlike a desktop PC, a configured server only needs to communicate with the outside world through its network connection. Like things such as software firewalls and so on, anything that is running that is of no use just gets in the way as far as memory and other resources go; and also, extra processes that are not part of the server or its supporting processes only serve to weaken the security (including reliability) of the server - things such as buffer overruns, resource conflicts which both allow malicious users to gain a foothold and genuine user's experiences being degraded.
So, what do we actually need to run on a server? The following is not an exclusive list but it gives an idea...
Operating system kernel so that other things can run;
Server software such as a web server or smtp/pop3 server and so on;
A firewall - just a basic one if you have another dedicated firewall as all you need to do is to make sure that anything that has broken through the outer layer of perimeter security has yet another obstacle in its way.
You certainly don't need to run a GUI. It is possible to set up a server completely without using a GUI but today, a GUI makes things so much easier. However, once you have your server configured, you need to shed the GUI as it becomes nothing more than a parasite - stealing your resources and giving nothing in return.
So how can this be done with Windows? Unfortunately, the GUI is designed to be a part of Windows so the Windows Operating System is not suitable.
It seems a little like wishful thinking so, can it really be done with anything else? The answer is yes. If you are running one of the Unices such as Linux, the operating system on boot up goes through a number of levels of operation call 'Runlevels':
Runlevel 2 gives you a standalone system;
Runlevel 3 gives you a networked system;
Runlevel 5 gives you a networked system with a GUI; and,
Runlevel 6 reboots the system.
You get a Runlevel (in increasing order) by typing
init 5
as 'root' at the command prompt - in this case to start run level 5.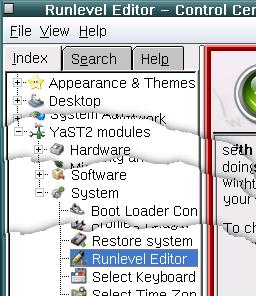 So, to set up your server, you boot up into Runlevel 5 and once you have everything running the way you want it - so that everything runs on boot up - you go and set the default Runlevel to 3. This can be done in SuSE Linux using the Runlevel editor.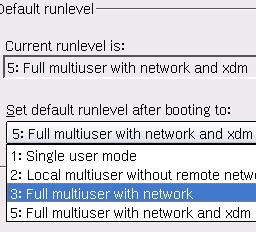 The next time you boot your server, it will only go as far as Runlevel 3 which means that you have everything running except the GUI. You can still log on and edit files and so on as long as you are familiar with a command line text editor or, if you want, you can copy files to another machine, edit them there and then copy them back

If you want to use your GUI, all you do is log in as root and then type

init 5

edit the configuration files, install drives or whatever you need to do and then reboot into run level 3.