Memory stick allocation
Motherboards tend to have four or more slots nowadays and they tend to be marked off in pairs. This is so that you can put matched pairs of RAM sticks in and according to the hype, it all runs faster.
So, supposing that you have built a computer with four memory slots (two cream, two black) and in slot one, you have a 1GB DDR400 stick.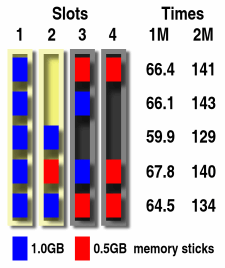 Some people upgrade their two-slot machines and you might find that they give you two 0.5GB DDR400 sticks - producing a very usable 2GB of RAM - these two occupying slots three and four.
So, now that you can afford it, should you buy another 1GB DDR400 stick?
It would be nice to have 3GB of RAM but it would also be nice to have it fast. Can different arrangements of sticks improve speed? What is the best thing to do?
The different coloured slot pairs allow the computer to address memory faster, in a way that is analogous to disc slicing in RAID. Having two identical memory sticks in a pair of slots allows for more efficient memory use on the motherboard. But just how much more?
I did some tests using a program that uses so much memory that local caching is eliminated and, as far as any test goes, mimics a real-life memory-hungry application. You can get the directory by clicking here. You can edit the file or change the parameters so that it runs any number but there is no point running it with such a large value that it runs into swap space. The times are measured on Linux. The Vista times are longer and even on Vista Ultimate, there is not the support to get the figures directly - you need to time the program and use a system monitoring program so, if you are running Vista, reboot into KNOPPIX and use that for the trial instead.
The program creates an enormous array with one or two millions elements and then creates a hash table and sorts it - doing this last step four times so that it uses up lots of memory. With two million elements, it uses nearly 1.7GB.
The combinations of memory sticks in slots, along with the times in seconds for each run are in the diagram - the lower the number, the better.
You can see that the two million element times fall roughly into 129, 134 and 141 seconds. Replacing your two 0.5GB sticks with a 1GB stick in slot 3 doesn't change the time but moving it to slot two knocks around 10 per cent off the total time. Filling slots three and four with the two 0.5GB sticks slows things down to somewhere in between.
Clearly, having 3GB of RAM allows you to process preposterously large images or multi-media files on Linux or run Photoshop on Vista comfortably but if that 10 per cent of speed is important - say, you want to run a batch job that will take several days but doesn't need that extra RAM - then use only the two 1GB sticks.