Disappearing files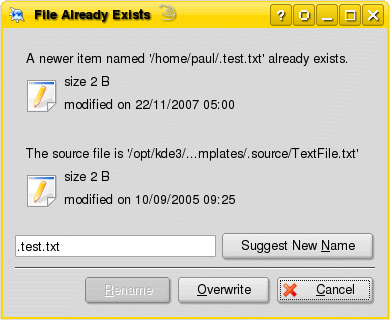 UNIX-like systems such as Linux don't use a hidden attribute as Windows or Mac OS X do, they use a different method to hide files. Try this...
Open the Konqueror file browser and create a file called '.test.txt' by right-clicking on the file listing and selecting 'Create New', 'Text File...'. It appears that the file has not been created.
Do exactly the same again and it will say that the file already exists.
So, what's going on?
The first part of the answer is to understand that in UNIX, there is no such thing as a file extension. The dot is just another character that appears as part of the file name. If you want to select all files that end with, say, '.gif', you (or, more likely, the system) just use a regular expression that looks at the end of each file name for the '.gif' string (m/\.gif$/) - this is not the same as looking for an extension called 'gif'.
The second part is that a file with a name that starts with a dot, under UNIX-like systems, is hidden from casual directory listings.
To see them in the Konqueror file browser, you need to select 'View', 'Show Hidden Files' and they will appear.
At the command prompt, use 'ls -a' to see them.
Simply put, there is no hidden attribute as there is under Windows or Mac OS X (Mac OS X also uses dot files and has a file in the root called '.hidden' so that is a complete mess).
Dot files and directories are hidden so that they don't get in the way when using the system under normal circumstances.
It is only a convenience issue and you can still enter hidden directories and open hidden files in the normal way.