KDE Screen-layout Choice
KDE is all about choice and as there is so much choice, you can pick the bits that you find work for you best.
If you are looking at migrating to Linux or UNIX (platforms that support KDE), you can choose a screen layout that your users will already be familiar with thus saving on retraining.
If you are liberating your users from the proprietary lock-in world of the Mac, you can have a menu across the top and have a similar set of icons - choosing to have icons for commonly used programs on the panel across the bottom with only a minor use of a main menu. Window decorations (the bits around the edges of the windows - using the KDE version of IceWM with its decorations allows you to make your own) and style (the controls and surfaces within the windows) can be made to look sufficiently similar that any Mac user will feel at home on their new UNIX/Linux system. Similar things can be done if you are liberating the users from Windows.
One argument against migrating to UNIX/Linux that people sometimes repeat is that users will not be familiar with the controls in the GUI - KDE demonstrates that this argument is simply hollow. It turns out that the KDE GUI is just as intuitive than Windows and, as you get used to the extras, is not crippled with pointless restrictions in the way that proprietary GUIs are. The same applies to Apple's offerings.
Once you have got used to your UNIX/Linux box, you can start playing around with the look and feel of it - using the system's flexibility to make it work the way that you want it to. Only then do you truly appreciate how restrictive the proprietary interfaces are. With KDE, you can have extra panels - on the sides and the top if you like. You can dispense with parts that you find of little or no use or have become redundant by other ways you have found of doing things.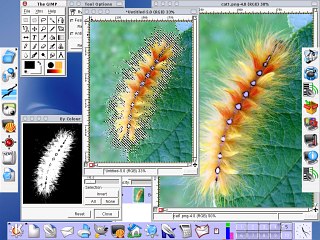 In the screenshot on the right, you can see one of the desktop layouts that I currently use - I have this one for general work and on the root account, I use a different set of window decorations which gives it a different feel - see below.
I have tried the menu across the top of the screen but found that it meant that if you had a window that was away from the top and you wanted to use the mouse to use the menu, you had to move it all of the way up there, away from what you were doing in the window itself. This caused too much disruption and so I got rid of it.
One thing that I did find worked quite well is having commonly used applications on panels - Note that these panels can be a range of different sizes and do not have to be the same size as each other (These are set to large (48 pixels) but can be 32, 22, 16 or custom which can be dragged by the edge to whatever size you want). I hardly ever use the main menu (the one that is equivalent to the 'Start' menu in Windows) as I can get most of what I need from the panels. You can see that I use three as a normal user. On the bottom, starting at the left icon, there is the 'K' menu (equivalent to the start menu), then a 'Quick Browser' button that reproduces the ~/Documents directory as a tree-style menu so that I can open files stored in there or open an file manager window or a console in one of those directories.
Next is 'Kate' - a text-editor that can open multiple files and has a built-in console that I use for programming, then a series of buttons for programs such as The GIMP, console, file browser, web browser, KWrite, calculator and email program.
Next is the system monitor which tells me how much processor time is being used (hardly any at all), how much RAM is in use (green at the top is file buffers) and lastly how much swap space (the UNIX equivalent of Windows' 'Virtual Memory').