Hidden files in UNIX-like OSes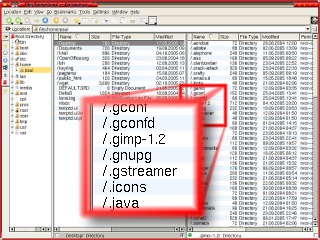 On Linux systems or any UNIX-like OS including Mac OS X, OpenBSD, FreeBSD and NetBSD, files and directories whose names start with a dot are hidden by the system from normal operations such as ls (directory listing).
To see these files, you need to be explicit so, in ls, just use 'ls -a'.
In Windows, the hidden attribute does the same and, if you are unfortunate enough to have been hit with the Sony Rootkit Trojan, other files will be hidden as well.
In Mac OS X (which is very loosely based on FreeBSD although it is more like Windows than BSD), there are two other ways of hiding files:
Being listed in the '/.hidden' file - so much for keeping the root empty of files (a major faux pas in UNIX circles as these should go either in /etc or /var); and,
Having the 'invisible' attribute set. This is closer to Windows than UNIX.
In Konqueror - as you can see in the screen shot - change the listing view with 'View'/ 'Show Hidden Files'. You can see the same directory but one has the hidden files listed.
So, why hide files? Most of the time, it isn't to try to pull the wool over your eyes, it is simply to get them out of the way in normal work. You don't want to see all of your settings directories listed if you just want a normal listing of your home directory. If you do want to see them, doing so is easy, just as it is in DOS.