Log Analysis and System Administration
In order to keep an eye on what is going on and to allow you to investigate things should you need to, there are a number of tools that you can use. The following are the ones that I find useful:
Ethereal (network analysis)
Squid Log Analyser - analysing the squid proxy log so that you can keep an eye on what is happening
Webalizer (httpd access log analysis)
KDE system Guard (Monitor system load and network)
Info Center (keep track of resources such as memory and disk space)
Nagios (overview of whole network and beyond with automatic notification of any problems encountered)
Ethereal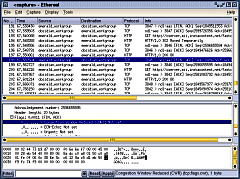 Ethereal is a packet sniffer. You can set it to look at either (or any) network interface (whether it is a NIC or a dial-up and so on) and it will observe any traffic on that network segment regardless of whether it was directed at the machines NIC or not - in other words, it views the network in promiscuous mode (although you can elect not to capture in this mode if you wish)
This program is useful for finding out what is happening if you are having problems setting up a particular program - for example, it could tell you what is going on if your dhcp negotiations are not working the way you think they should or if you want to check if something that should be encrypted is actually being sent over the network in the clear.

Squid Log Analyser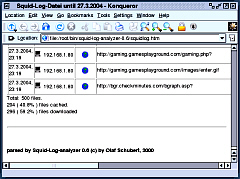 Squid log analyser (its configuration file is wherever you put the program) is a nifty little program from Olaf Schubert ( http://squidlog.sourceforge.net/ ) that analyses the access log file for Squid. You can configure it to look at the last however many entries you wish to check where the users have been and how many cache hits you have.
Click on the image on the right to see an example of the analysis.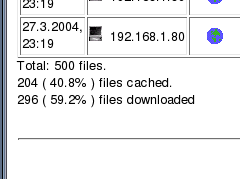 The proportion of cache hits can vary depending upon what type of browsing your users are doing but I have seen the proportion of cached files in the last 500 vary from as low as around 20% to as high as 90%.
If your cache can be fairly substantial, say 1.4GB as on this machine, it can represent the casual browsing of an average family (read into that what you like) of several months worth of files.
One thing you might like to do with the code when you install it is to change one of the lines, just under the commented #date line there is a commented #convert UTC-Date... line and you should add another line (I did it just after $year=$year+1900;) thus:
$month=$month + 1; # correct the month



Webalizer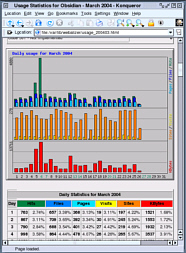 Webalizer is nifty little program that looks at your website hits and can give you an idea of just how busy your server is - certainly as far as port 80 is concerned. Its configuration file (webalizer.conf) is at /etc, is very well annotated and doesn't really need any explanation here.
It gives graphical output of the system including where on the planet the people who looked at your website came from, what time of the month and what time of the day, as well as letting you know which pages people entered and left your site on.
Each calendar month is broken down in this way so that you have the last 12 months at hand.

KDE system Guard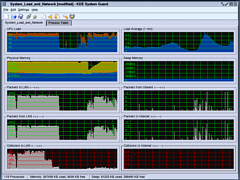 This program allows you to monitor the process table - a list of the processes that are at work which you can have as a simple list or as a tree - or a series of graphs which you can save and open later.
I keep a copy of this running at all times so that I can monitor what is going on. The default settings give you a 2x2 array of the top two rows of the screenshot. I have added another three rows with the LAN interface on the left and the Internet interface on the right (this is the way that it is arrange physically and it is always a good idea to do reflect the physical layout if you can as it makes more sense if you have to look at things in a hurry for some reason).
Of the bottom three rows, the top one is packets from the Internet to the LAN, the second is packets from the LAN to the Internet and the bottom one is collisions for the two interfaces.
You can see from the screenshot that there is a lot of traffic between the server and the LAN that is not going out to the Internet (I was hammering the LAN to test it by copying large files around it). On the bottom, you can see that the quantity of collisions decreases substantially as the interframe gap is increased by the NICs. The IEEE standard (802.3) says that it should be 9.6 microseconds but a lot of NICs have it set a lot lower than this because low demand networks such as home networks work faster as there are fewer machines on them to generate collisions. With more machines, you have more collisions so you should have a larger gap to help prevent this - note that you cannot prevent early collisions (ones that happen within the first 512 bits of data) as these will happen anyway.
Info Center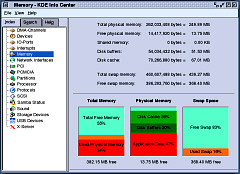 This is another one that I keep running on a desktop all of its own. Whilst it can tell you important information about your system such as how many bogomips it produces, it is more important to look at resources such as memory, storage devices (how the disk space situation is developing) and usb devices (if you are using any) as these are helpful in finding out how the system is changing or if it is nice and static.
If you look under Processor you can see how fast your processor is - the machine I obtained for this project gave roughtly 1200 bogomips

Nagios
This

program runs on one of the machines on your network - some people say that it would be better to have it running on a machine on its own as it can take up a lot of processing power if you have a large network (possibly thousands of machines running many times more services) and frequent checks but for a small network of half a dozen computers to several dozen it should be okay to run it on a 500MHz machine with a few hundred MB of RAM.
The program itself monitors system resources by testing them at specified time intervals. The time intervals can occur at any time of the day or week or you can define your own working week with different days, hours and so on so, if a machine was only turned on during office hours but not on Wednesday afternoons, that could be defined so that it would know not to look for it out of the specified hours.
If something out of the ordinary happens such as a machine becomes unreachable for more than a specified amount of time, the program can email you or perform one or more of a variety of functions as specified by you in the configuration files - such an event could be triggered by a system crash, a hardware failure such as a NIC going down, workmen cutting through a fibre-optic cable or somebody stealing a server; and you would know either in real time or by looking at the logs when it happened.
Like the testing, the notification time periods can be specified so that people who are not available at weekends are not emailed during them and so on.
Nagios is capable not only of looking at the machines on your network, but also at other resources so if, for example, you have an outsourced website that you need to know is available 168/52, Nagios can check it for you and let you know if it was unavailable for eleven hours between Saturday night and Sunday morning although it cannot tell you why.
When you install Nagios, and then look at the configuration and help files (/etc/nagios) you might find that the paths are slightly different to some of the various Nagios resources on the system.
On mine, the webserver root (that is placed in Apache's server file system using aliases) is on /usr/lib/nagios; the documentation and other resources are on /usr/share/nagios; and; the ever-useful log files are on /var/log/nagios.
When you are configuring Nagios, you will find the log files very useful as they will let you know where you have gone wrong (unless you are exceptionally brilliant at it and manage to configure it correctly the first time you use it).
There are two main parts to configure:
Apache
Various Nagios configuration files: hosts, services, relationships between them and so on.
Apache
Look in Apache's configuration file - httpd.conf in /etc/httpd and in the aliases section, you need to let Apache know that Nagios is to be a part of the system and what it is going to be called...
Aliases section
## start of nagios inclusion
ScriptAlias /nagios/cgi-bin/ /usr/lib/nagios/cgi/
<Directory /usr/lib/nagios/cgi/>
  Options ExecCGI
  
  AllowOverride AuthConfig
  AuthType Basic
  AuthName "Nagios Access"
  AuthUserFile /etc/httpd/pswds
  AuthGroupFile /etc/httpd/gps
  Require group nagiosgp
  Satisfy Any
  
  order deny,allow
  deny from all
</Directory>

Alias /nagios/ /usr/share/nagios/
<Directory /usr/share/nagios/>
  Options None
  
  AllowOverride AuthConfig
  AuthType Basic
  AuthName "Nagios Access"
  AuthUserFile /etc/httpd/pswds
  AuthGroupFile /etc/httpd/gps
  Require group nagiosgp
  Satisfy Any
  
  order deny,allow
   deny from all
</Directory>
## end of nagios inclusion
You also need to make an addition to the directories so that Apache knows who is allowed to use it.
Access permissions section
## start of nagios inclusion
<Directory /usr/lib/nagios/cgi>
  AllowOverride AuthConfig
  AuthType Basic
  AuthName "Nagios Access"
  AuthUserFile /etc/httpd/pswds
  AuthGroupFile /etc/httpd/gps
  Require group nagiosgp
  Satisfy Any
  order allow,deny
  allow from all
  Options ExecCGI
</Directory>

<Directory /usr/share/nagios>
  AllowOverride AuthConfig
  AuthType Basic
  AuthName "Nagios Access"
  AuthUserFile /etc/httpd/pswds
  AuthGroupFile /etc/httpd/gps
  Require group nagiosgp
  Satisfy Any
  order allow,deny
  allow from all
</Directory>

## end of nagios inclusion
This might seem a bit belt-and-braces but it doesn't leave anything to chance. With the conf file updated you can restart Apache using YaST2.
Nagios
The other bit you have to configure is Nagios. This is broken down into a number of files in a sort of relational database thus...
cgi.cfg
checkcommands.cfg
command.cfg
contactgroups.cfg
contacts.cfg
dependencies.cfg
escalations.cfg
hostextinfo.cfg
hostgroups.cfg
hosts.cfg
misccommands.cfg
nagios.cfg
nrpe.cfg
nsca.cfg
original_cfgs
resource.cfg
send_nsca.cfg
services.cfg
timeperiods.cfg
The main configuration of Nagios is in nagios.cfg where the program is told where to look for the resources that it needs; each host has a place in the hosts.cfg and each host is part of a group (these can be which subnet they are on and so on) which are mentioned in hostgroups.cfg. Hosts are dependent upon the services of other hosts and so on - the whole lot linking together.
The contacts (people such as systems administrators on various shifts and so no) are members of contact groups and can be (individually) contacted according to their work times. In addition to this, it is possible to specify scheduled downtime so that people are not getting warnings about things that are not really happening.
The best way of getting to know Nagios is to set up a simple network with just a few hosts and a few services (say, just pings to start with and perhaps a http server). Configure it and then start Nagios in YaST2. If anything is wrong, the error log (config.err in /var/log/nagios) will tell you what it is (or at least the first ones it comes across until things get so confusing that it just gives up - things have to be fairly bad for this to happen though and it usually does a good job of letting you know what it wrong).
Once it is up and running, you can access it via a web browser on any machine that you have so permitted. You will have to type your userID and password and then you are in. Click on Tac tical Overview and you will be able to see at a glance if there is anything wrong with hosts or services.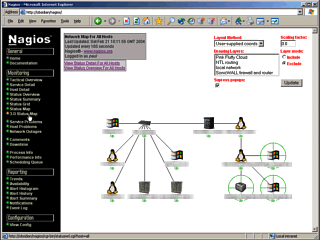 If you have specified the 2D co-ordinates in the hosts.cfg file, click on the Status Map in the menu (left frame) will give you a picture like the one on the right.
On the right of the diagram, the LAN is defined and then the various routers and firewalls lead out of the local system onto the ISP's system and then to hosts on the Internet. You can configure Nagios to look at these as well so, apart from your outsources website, you can have your favourite search engines or anything you like. As long as the owners will let you ping it or check the http service (or whatever you want - as permitted), Nagios can check it. With systems owned by other people, it is a good idea to check them fairly infrequently as these will have a fair amount of demand on them any way and to have several hundred of their customers pinging it once a minute just to see if it still there will probably lead them to block you or at least complain. Once every 15 minutes, once per hour (or day even) would be more appropriate depending on yours and their circumstances.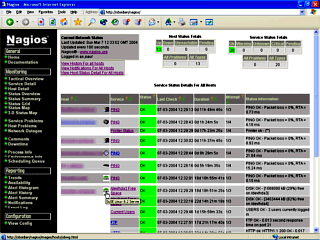 Click on Service Detail will get you a picture like the one on the right. Each host has the services described and you can look at the status information - so, say you wanted to know how much disk space there was on a particular machine or how fast the ping was, you could find out on this page.
Click on any of the links on here and they will take you to the appropriate page (services, hosts, trends and so on).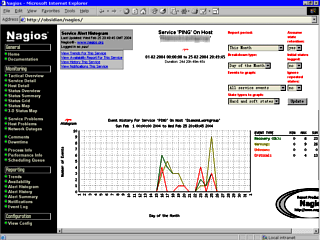 If, in the above page, you click on a service and then "View Alert Histogram for This Service", you get an image like the one on the right. You can specify the report period (last day, month, this year and so on) and the Breakdown type (Day of the month, Day of the week, hour of the day and so on) so that you can see if anything happens at a specific time of the day, week, month and so on.
You can also state types of states to graph. Selecting hard and soft states will give you the most results. Clicking on the "Update" button will give you your new image.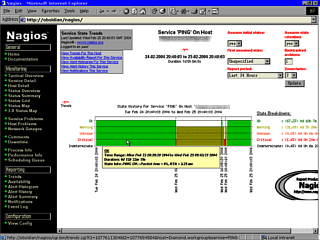 If you click on "Trends For This Service", you will get a picture like this one. You can see where the service fluctuates between OK, Warning, Unknown, Critical and Indeterminate.
If you click on a portion of the bar, it will zoom in. If you want to zoom out, change the zoom factor to a negative value and click on the update button.
Again, you can change the time period and investigate any part of the record you like. If you find that things go pear-shaped with disk space and then clear themselves up every day at the same time, it might be that you have gone over a warning level with a log and at the same time each day, the log is archived and the problem clears itself up. If you want to try that out, you can set the loglevel in Squid to 5 (remember to turn it back to 1 afterwards).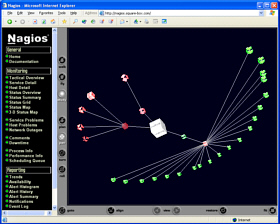 If you want to see Nagios running on a site and have a play around with it, go to http://www.nagios.org/demo.php (or click on the image on the right which will open a new browser window) where instructions are given on visiting such a site.