That all-important Jalebi ('ਜਲੇਬੀ') recipe
If you want to sit around at four o'clock in the morning in your underpants, doing your on-line banking, eating Jalebi ('ਜਲੇਬੀ' pronounced 'Ja-Lay-Bee' with the emphasis on the second syllable), you will probably want to find a source of Jalebi. So, here is one.
First of all, I know that not all readers of PC Plus are adults so, as this recipe uses hot sugar solution and hot oil, you really need to get an adult to help you. Remember to turn off the heat under the oil when you have finished.
So, assuming that you can do this recipe safely, you will need the following...
Ingredients:
Batter:

1 cup of plain white flour;
1 heaped tablespoon of rice flour and/or gram flour*;
1 teaspoon of yeast or baking powder**;
If you are using yeast, 1 teaspoon of sugar;
1 teaspoon of sunflower oil; and,
Warm water (cold water if you are using baking powder instead of yeast).

Sunflower oil for frying;

* if the white flour you get is strong - bread-making flour - you will need to reduce the protein content (specifically the gluten) by adding another flour that doesn't have gluten in it. Whilst gram flour has a lot of protein in it (around 22%), there is no gluten in it so it will dilute down the wheat flour all right. If you don't reduce the gluten content, the batter you will make can end up quite thick and 'gloopy' which does not pipe too well.

** this is to make it expand a bit. With the yeast, it saturates the batter with CO2 and when it hits the hot oil, that comes out of solution and foams. The baking powder has the same effect. Note that the water in the batter will boil and expand as well.

Syrup:

1 cup of sugar;
1/2 cup water;
1 teaspoon yellow food colouring - some recipes use saffron instead; and,
1 pinch green cardamom powder.
Utensils:

a small frying pan - around 10" will do;
a bowl to mix the batter in;
a large spoon to put the batter in the Jalebi bag with;
a Jalebi bag or, a piping bag (icing)***;
a spatula for handling Jalebis in the oil;
a milk pan;
a fork for holding the Jalebis down in the syrup and then fishing them out afterwards; and,
a dish to put the final product on.

*** Some people have used those tomato sauce squeezy containers. You just want something that you can put the batter in and squeeze without the hole changing its size - you need a hole around 3 or 4 mm in diameter. A plastic bag will not do because the nozzle needs to be a stable size - you don't want it to grow when you squeeze harder as the cut-off corner of a plastic bag would do.
Method:
First, make the batter.
In a mixing bowl, mix the flours. If you are using baking powder instead of yeast, add that as well. Then, add the teaspoon of sunflower oil.
Next, fill a cup (1/3rd of a pint) with water. If you are using baking powder, make it cold water. If you are using yeast, make it warm water and add the yeast to it - live yeast is better because it gets to work quicker.
Add the water to the flour and mix, adding more water as needed until a batter consistency is achieved - (not too gloopy, not too runny - you've all seen the consistency of the batter they use in a fish and chip shop, try for that but a little bit runnier - it will thicken up).
Next leave it for an hour but get on with the next stage.
Next, make the syrup.
In the milk saucepan, put the sugar, water, food colouring/saffron and green cardamom and put it on a medium heat. Stir it occasionally until it comes to the boil and all of the sugar has dissolved. If you are not familiar with green cardomon, you should now find out for yourself that it smells like ginger. Take it off the heat (but don't let it get cold). I have found that I need to use roughly 1.5 times the above quantities for the syrup but if you make too much, it will keep (think of jam, there is so much sugar in it that it doesn't go off). When you have finished, just let it cool down and then pour it into a jam jar through a sieve - when you come to use it again, simply reheat it as though you had just made it.
Now make the Jalebis.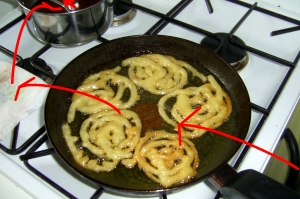 In the same what that you would when making pancakes you need to set up a production line of sorts
I do this by having the batter on one side of the stove, next to the frying pan, then a piece of kitchen towel, then the syrup and then the dish. Make sure that you don't have the kitchen roll so close to the frying pan that it catches fire.
This means that you are not trailing dripping batter in your syrup or syrup into your hot oil (insert your own favourite disaster scenario here..) and so on.