DELETING DATA
Deleting data on a disk is a little more involved than simply pressing [Del]. It really just doesn't want to go away and the Windows operating system and a number of program vendors have made sure that there are a number of lines of defence before even the relatively unequipped user can't get it back.
In Windows Explorer or on the desktop or numerous other places, you can get rid of a file by highlighting it and pressing [Del]. This, as everybody (I hope) knows, will transfer it to the recycle bin. If you then go to the recycle bin and delete it from there, the disk space it occupies ("still" occupies as opposed to "used to" occupy) is marked ready to be written over by the next file that needs it.
If the file was originally written when the disk was fairly full and the disk has had a lot of data removed since, for instance, if you burn a lot of CDs, it may well be a long time before that area is overwritten. With this in mind, there are a number of programs available that will look at the data on the disk that is recoverable. Some "deleted" files can still be found entirely intact and whilst any word processor will reject any partially recovered file with the possible exception of text files, these are still of some use to forensic analysis or to competitors where the time and cost to analyse the data is budgeted for. However even forensic imaging of the whole disk still only looks at part of the information on the disk -- only really looking at as little as only 15% of it because this is what has been digitised. The analogue information is simply ignored by the imaging process.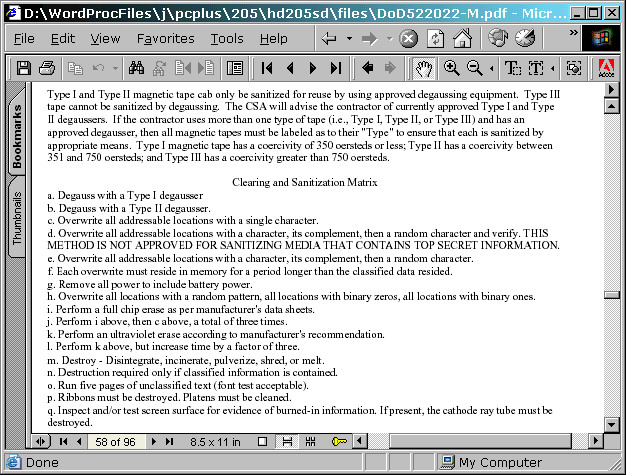 The analogue information is what people like to think of as digital information on the disk but in reality, there are no completely magnetically polarised bits of data. A clever piece of hardware decides whether or not any particular bit is a 1 or a 0 based on whether it is more like a 1 or more like a 0 and that result is what the computer sees.
If the disk drive is taken apart and the analogue data recovered directly from the disk, several generations of data writes can be recovered -- claims of up to 7 generations have been made and if your information is valuable enough to warrant that type of analysis, all of the disk needs to have undergone a pretty rigorous overwriting process in order to obliterate any potentially useful residual data.
Just how much and of what type of overwriting of data is required depends upon the media type and the importance of the data. This is laid down in the US Department of Defense file DoD 5220.22-M National Industrial Security Program Operating Manual (NISPOM) at the end of section 8-307 which states that simply overwriting the data seven or so times is not good enough for a 3.5" floppy which has to destroyed.
Click here to open the DoD 5520.22-M.PDF file