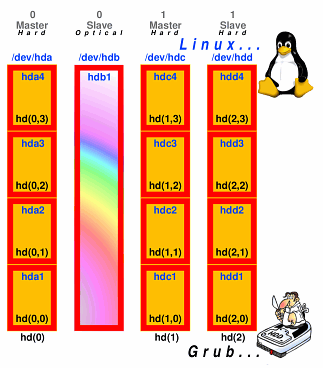 If you only installed one OS, you would never need to know any of this but if you install several, you need to understand how Grub allocates the names to each drive and partition because here, we have hdc (the third drive) as hd1.

On the right, you can see how the partitions are allocated (I've put the numbers in brackets to make them clearer). The master boot record for the first drive is hd0 and that is what you would use if you wanted to install grub there. The first partition of the first drive is hd0,0 and if you want to install grub into the boot record for that partition, that is what you use. When you install other operating systems, you get a chance to install grub where you want with them and for the sake of preserving your system, I would recommend choosing a partition boot record that has not already got Grub in it - this way, the configuration files will be preserved.

One way of being able to boot into all of your OSes is to edit the first copy of Grub's menu file so that it includes them. All you do is add a line to the /boot/grub/menu.lst file for each one a bit like the following.
title OpenSolaris 10
    root (hd1,0)
    chainloader (hd1,0)+1
This will will make it chainload into Solaris' copy of grub so you end up with another boot loader menu. And, there is nothing wrong with that.
However, you might want to have all of your OSes accessible directly through your first Grub menu. To do this, you need to do the following
Once you have another copy of grub installed with another partition, you can log on as root in that OS and make a copy of /boot/grub/menu.lst which is where the menu is stored and save that on a drive you can get at from both systems (you might want to use a small partition formatted in vfat, a network drive or maybe a pen drive). Once you get back into your first OS (the one that the system boots into by default) you open its '/boot/grub/menu.lst' in a text editor and add the extra lines (don't delete the old lines, just remark them out by starting each line you want to remove with a hash mark '#'. Grub will just ignore these and they will not appear. You can also do this with commands in grub if you are experimenting). Now, when you boot the computer, you should get each OS with a line of its own
However, there are some things that can go wrong.
When you install Linux (or Solaris, FreeBSD and so on), you get the opportunity to install Grub (the GRand Unified Bootloader) wherever you want. This includes the disc's master boot record in addition to each partition's.
For the first hard drive (normally the master on channel 0), the master boot record is hd0 and for the second, it is hd1. For a machine that has been bought with one hard drive, normally, your optical drive would be the master on channel 1. However, if you want to have a smallish drive for your OS and enormous DVD-editing storage, you might have three HDDs so that any CD/DVD writing you do will be from a drive on channel 1 (as in the configuration in the diagram) to the optical drive in the slave on channel 0 as noted above.
Of course, with Grub, the optical drive is ignored so in this instance, hd1 is the master on channel 1 which, under Linux, is hdc. The problem is that: unless you have run into problems with this, there is no reason why you should know any of it. As a result, when you have installed your new, second OS, you can install grub on the partition boot sector where you think it needs to go - which will most likely be wrong.