KIOslaves and IOslaves
We are all familiar with using http://, https:// and ftp:// in the address bar of a browser but there are a number of other IO Slaves and KIOSlaves that are available if your browser will support them.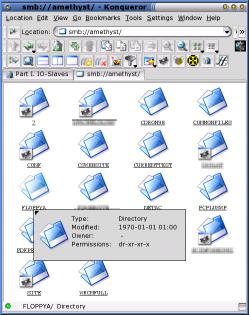 IO-Slaves available mostly are: audiocd, bzip, bzip2, cgi, Data URLs, file, finger, fish, Floppy, FTP, gopher, gzip, help, http, https, imap, imaps, Info, lan, ldap, mailto, mac, Man, mrml, news, nfs, nntp, pop3, pop3s, print, rdate, rlan, rlogin, sftp, SMB, smtp, tar, telnet, thumbnail, webdav and webdavs.
On the right, you can see the SMB IOSlave in Konqueror. Displayed are the windows shares on one of the smb servers on the network. With this window, it is possible to drag and drop files from another window and effectively 'push' them to the server instead of having to go to the server and pull them from the Linux box.