Processor demand
If you want to find out how much processor time and other resources a program uses - effectively finding the minimum system resources required to run a program - you can always use 'top' but if the program you are interested in uses all of the screen - such as a game like Tux Racer for instance - you will have to think of this from another angle.
'top' provides a useful, real-time display of processes and how much resources they use. However, it does require a console to work in so if you have a second machine, use the first method otherwise, you will have to look at the second way of doing this.
1. One way of hacking this is to use your slower machine to ssh into the faster one and run top. This way, you will be able to see how much power is being used in real time although this needs both machines in the same place or, you need to borrow someone to play the game while you watch top on the other machine.
2 a. The other way of doing this is to use top from the command line in batch mode. With this method, you can look at other processes that were running at the same time. Open up a shell and when you are ready to start Tux Racer, enter...
top -b -d 3.0 -n 30 > tempfile.txt
... then run Tux racer.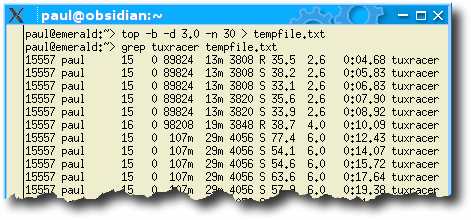 The '-b' switch makes top run in batch mode, the '-d' switch specifies the duration in seconds between each sample and the '-n' switch tells it the number of iterations to make. The '>' tells the system to direct the output to a file called 'tempfile.txt' which is in the current directory. I found that with around 80 processes running, 30 iterations gave a file size of around 250kB.
Once you have created your file (and finished playing Tux Racer), you want to see the lines with your process on it. In batch mode, top outputs information on all of the processes which is why it is such a large file. The lines you are interested in will be dispersed amongst these other lines so, to sift these out, we use grep (get regular expression) to search through the file and print out each time tuxracer is found. To do this, enter...
grep tuxracer tempfile.txt
You can do this for any of the processes that were running at the time.
2 b. However, if you are pushed for disc space or you are only interested in the one process, type the following two lines instead...
top -b -d 3.0 -n 30 | grep tuxracer > tempfile.txt
less tempfile.txt
This pipes the output of top, through grep which filters it and then that output is redirected to the file. This makes the file much smaller as we are only interested in looking at one process this time. Being a file that has already been filtered by grep, you then look at using 'less' once top has finished. This way of doing it generates a file of only around 2kB for the same situation.
So, you know the processor speed (in this case 1.8GHz) and you know what proportion of the processor time is needed during normal playing (around 60 per cent) so you can work out roughly what speed processor is needed (in this case, around 1GHz plus a bit for other things going on that are needed).